Electronic Thermostat "all or nothing",
Digital display, 2 setpoints, 1 output regulation and 1 output alarm
Download ELTH-B390 Electronic controler Datasheet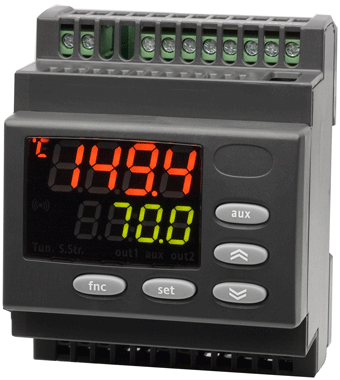 The modular thermostat ELTHB-390 adapts to all cases where a temperature control is necessary: ​​atmosphere, air ducts, liquids, solids thanks to the different interchangeable probes available.
ELTH-B390 is a two-point regulator. It can be used for the management of neutral zones. They are equipped with an input for thermostatic probes type PT100, current 4 ... 20mA.  
The value of the sensor is displayed on a three-digit display. Regulators are available in standard 4DIN format and 230Vac power supply.
Description
Plastic module housing: 4 DIN
Front dimensions: 70 x 85
Depth : 61mm
Montage : Rail DIN
Connection : 2.5mm² Screw Terminal Block
Working temperature: -5...55°C
Storage temperature: -20...85°C
Display: 4 digits
Precise: <0.5%
Display: 1°C or 0,1°C
Voltage: 90...240Vca ± 10%, 50/60Hz
Electrical Diagram
1-2 N.F Relay
13-15 N.F Relay
13-14 N.O Relay
18-19 Power Supply
21-22-23-24 Sensor
TTL Connexion
Download ELTH-B390 Electronic controler Datasheet
Details

Parent Category: Heating Cables Accessories
Category: Thermostats and Controlers
Last Updated: 22 August 2019