Energy efficient control of ice and snow melting
ICE CONTROL: We cannont change the weather - but we do control the consequences
Download ETO Electronic controler Datasheet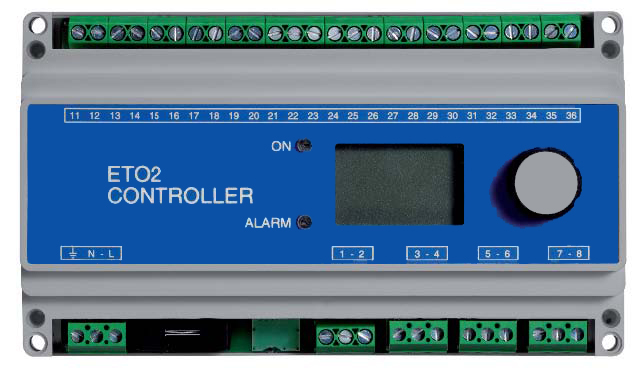 We has developed the ETO2 controller for ice and snow melting in gutters and ground areas. Using readings from temperature and moisture sensors, the controller ensures economical control of power consumptions when keeping out door areas and roofs free of ice and snow. The moisture sensor is installed in the surface of the out door area or placed in the gutter. As soon as moisture is detected, the ETO2 controller activates the snow melting system. Once the sensor has driedout, the thermostat immediately goes in after run and the system will continue to provide heat for a chosen time.
An intelligent all-in-one solution for ice and snow melting usable for all applications within hydronic as well as electrical heating. Optimal operation is ensured due to output control which makes the system both effective and economical. ETO2 offers you the possibility of snow melting—the green way.
Electronic on/off control up to 11KW
2 zone control, individually controlled at the same time
Economical control-minimising energy consumption
Adjustable moisture sensitivity
Detection of temperature and moisture
Display and "knob wheel" for easy programming
Control of electrical or water-based ice and snow melting systems
Language options
THERMOSTAT FUNCTION SENSURING MINIMAL ENERGY COMSUMPTION
The snow melting system will be energized only when the outdoor temperature is below the selected setting and snow or ice occurs on the sensors. This way you only use energy when absolutely needed.
For Gutters-ETO2-4550,ETOR-55 and ETF-744/99:
The sensor type ETOR is designed for mounting in gutters and downpipes etc. ETOR detects moisture, while ETF detects temperature.
For Outdoor areas - ETO2-4550 and ETOG-55 isused:
The sensor type ETOG is designed for embedding into the surface of the outdoor area. ETOG detects ground temperature and moisture. The air sensor type ETF-744/99 can be used for measuring rapidly temperature decreases.
Download ETO Electronic controler Datasheet
Details

Parent Category: Heating Cables Accessories
Category: Thermostats and Controlers
Last Updated: 22 August 2019