Ambiant and Surface Thermostat ELTH-A5
SPECIAL CONSTRUCTION MARKET: Ambient and Surface Thermostat
Download the Technical datasheet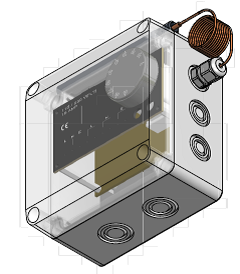 The ELTH-A5 thermostat  is a temperature control thermostat which allows the direct connection to the output of one (1) or two (2) heating cables or one (1) or two electric cables (type RVFV-U1000-3G2. 5) plus the direct connection of a power cable (type RVFV-U1000-3G2.5).
It can be used in industrial environments (refrigeration industry, maturation, etc.). It is perfectly adapted to the building and construction industry market.
The thermostat is liquid expansion type. It is a sensitive element with tinned copper bulb with stainless steel membrane.
Depending on the type of cable and number of cable, please follow the appropriate option. .
Ambiant and Surface Thermostat ELTH-A5
Adjustable from + 0 ° C to + 90 ° C
Switching capacity: 16A / 230V
Thermostat housing 125x125x70 with regulation
system and bulb included.
Transparent cover for case (125x125x25)
Protection: IP 65
Housing: Thermoplastic Shockproof
Probe and Capillary: Copper.
Temp. Max. Bulb: 120 ° C
The housing has the following openings:
2 x M16/M25
2 x M16/M25
3 x M12/M20
3 x M12/M20
Can be used with the whole range of ELTRACE heating cables
Download the Technical datasheet
Details

Parent Category: Heating Cables Accessories
Category: Thermostats and Controlers
Last Updated: 22 August 2019