Which materials to use to protect pipes?
We offer a complete set of connections and accessories to effectively assemble your freeze protection system with self-regulating heating cable..
A protection system against pipe freezing is a set of accessories. From the junction box for electrical connection to the thermostat. The following list is exhaustive::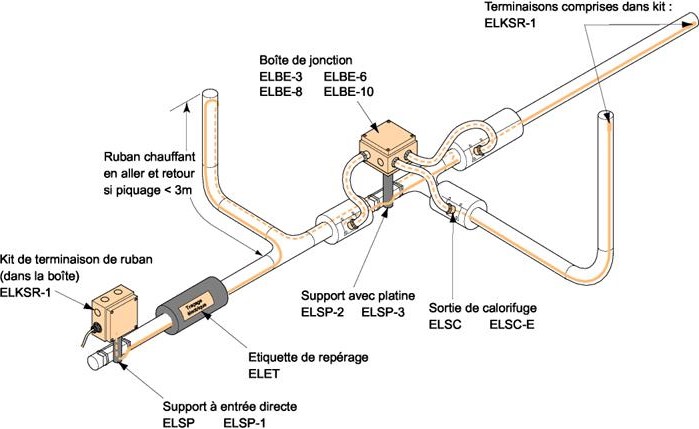 A Self Limiting Heating Cable, ELTRACE can do your heat-loss calculation. Except special application we usualy use TRACECO Self Limiting Heating cable
The connexion: This can be a connection box or electrical junction box (with its suitable connection kit and its pipe support) or a quick connector type DOMOCLICK, TRASSACLIP or other ELTRACE brand for warranty issues.
Adhesif aluminium foil type ELAA-50 to fix your self limiting heating cable to the pipe. You can also use glass fiber adhesive (more resistant)..
Ambient or surface thermostat type ELTH-Ax (usually an ambient room thermostat is sufficient for frost protection but not for a temperature maintenance). Depending on your needs, there are several types of thermostats: mechanical thermostats, capilary or electronic thermostats. Please, fell free to contact us any technical or commercial questions..
Labels type ELET, to indicate that there is a presence of electric heat tracing cables to prevent any risk..
Details

Parent Category: Applications
Category: Frost protection - pipe
Also available: